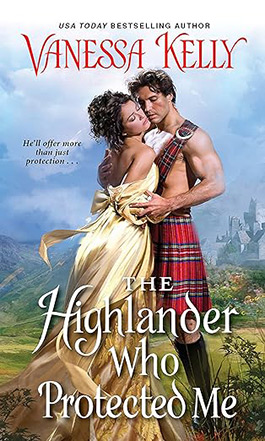 Clan Kendrick Book One
Kensington Books
October 30, 2018
Bestselling author Vanessa Kelly returns with an enthralling new series about the men of the Kendrick clan—and the women who claim their hearts . . .
Lady Ainsley Matthews, heiress and darling of the ton, was expected to make a magnificent match. Instead she's hiding on a remote Scottish estate, terrified that her vicious former fiancé will use her pregnancy to force her into marriage. One man can help her—Royal Kendrick, son of a distinguished Highland clan. Though a mistake drove them apart long ago, Royal is the only person Ainsley trusts to protect her baby—even if that means agreeing to never see either of them again . . .
Scarred in body and soul by war, Royal suddenly has a purpose—caring for an innocent babe and thereby helping the woman he can't stop loving. But when Ainsley ultimately returns to Scotland, determined to be a real mother to her child in spite of the risk, there's only one solution: marriage. And only one likely outcome: surrendering to the desire that's simmered between them for so long, no matter how dangerous it may be . . .
Prologue and Chapter One now available!
*As an Amazon Associate I earn from qualifying purchases.
---
REVIEWS
Amazon #1 bestseller Regency Historical Romance
Amazon #1 bestseller Scottish Historical Romance
Neilsen BookScan Romance Bestseller
Nook #1 bestseller Historical Romance

USA TODAY BESTSELLER

"Brilliantly written, deeply emotional, altogether splendid!" ~ USA Today Bestselling Author Collette Cameron

"Sensuous romance, elaborately developed characters, and a fast-moving plot make this historical very satisfying." ~Publishers Weekly

"Kelly continues the story of the honorable Kendrick men, who fight to protect the women they love. While Ainsley fights her attraction to Royal with sarcasm, Royal quietly builds a fire in her that neither can resist. Enjoyable." ~Historical Novels Review

"Readers won't be able to put this unforgettable book down…it has a wonderful setting, amazing dialogue, hilarious secondary characters, as well as brilliant main characters." ~5 stars, Celtic Barb's Tartan Book Reviews

"Ms. Kelly has launched a brilliant start to this series where the chemistry between this couple was tangible and off-the-charts from the moment they come face-to-face." ~4.5 stars, Harlequin Junkie, Recommended Read

"This was a great read, one with lots of passionate moments from our characters, and I'm not talking about romance scenes. Those were good too, but it was cool to see the interactions and lives come off the pages of this book." ~5 stars, Bibliophile.reviews

"When Ainsley does return to claim her baby and her man, the ensuing passion is almost too hot to handle. This kick-off to the Clan Kendrick series is definitely one you don't want to miss—or read without a tall glass of water nearby." ~A Love So True

"A non-simpering, strong-minded heroine, and a wonderful romantic hero…I'd definitely recommend this to anyone after their own handsome highlander, or at least the company of a fictional one for a couple of hours. This was a fun read, and I thoroughly enjoyed it." ~Jennifer C. Wilson, Historical Fiction With Spirit

"The magic ingredient in this story has to be the witty banter. The clever, romantic sparring created sparks that brought Royal and Ainsley alive on the page. Sometimes seductive and sometimes playful, it painted such a brilliant picture of these characters." ~4 stars, Buried Under Romance

"Kelly dreams up a stunningly captivating tale of heartache, bravery and romance." ~4 stars, I Love Romance

"Genuinely enchanting, delightfully humorous, and deeply romantic!" ~4 stars, The Book Review

"A refreshing change of pace…the characters were all utterly delightful." ~4 stars, Pass Me That Book
FOREIGN EDITIONS